Description
Rebel Clash – Elite Trainer Box – 8 Booster packs & other goodies!
Rebel Clash is the second wave of Pokemon Sword & Shield Trading Card series.
The Pokemon Rebel Clash Elite Trainer Box is perfect for experienced and new players and collectors of the Pokemon TCG as it contains lots of information on gameplay, new game mechanics as well as 8 booster packs to get your collection going.
One Rebel Clash Elite Trainer Box supplied
Contains:
1 Storage Box with Rebel Clash Artwork
8 Rebel Clash Booster Packs
65 Rebel Clash Artwork Sleeves
1 Tokens set
1 Dice Set
1 Collector Pamphlet with details of the Rebel Clash Set
Rock out with new Pokémon! Crank it loud and blast the beat—you'll find rebellion, chaos, and punk attitude galore in the Pokémon TCG: Sword & Shield—Rebel Clash expansion, loaded with Pokémon V including Toxtricity V, Dubwool V, Boltund V, Sandaconda V, and more! You'll also find a handful of Pokémon VMAX, including the final Evolutions of all three first partners, plus Copperajah VMAX and Dragapult VMAX.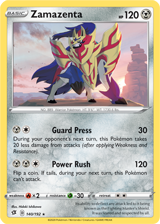 Take to the stage and the streets with the Sword & Shield—Rebel Clash expansion!
Over 190 cards in the Rebel Clash Expansion
Dozens of recently discovered Pokémon from the Galar region
15 powerful Pokémon V and 7 enormous Pokémon VMAX
More than 15 Trainer cards and 4 new Special Energy cards